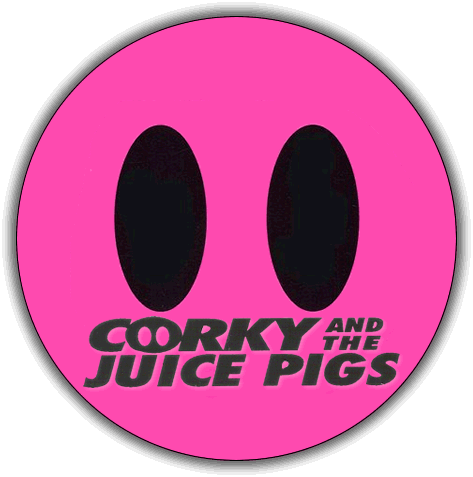 Corky & The Juice Pigs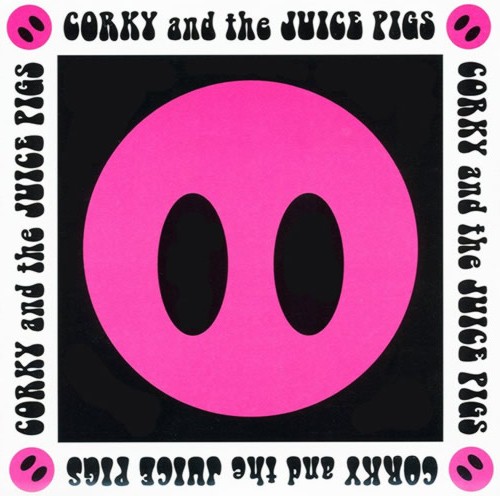 The Juice Pigs' debut album, containing Eskimo, Skateboard, Psycho, Americans & Many More.
Pants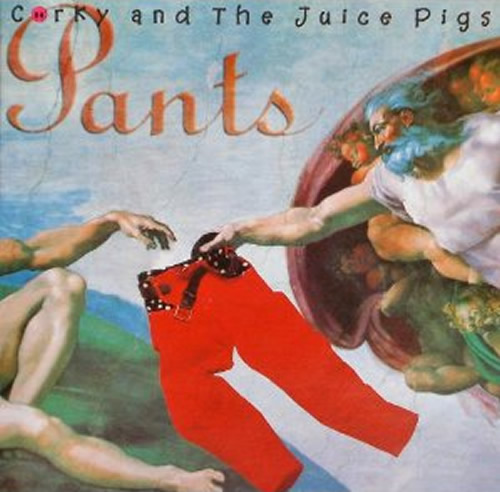 The follow up - Pants - including REMember, Janitor, BVG & Christmas Dreams
Buck-A-Song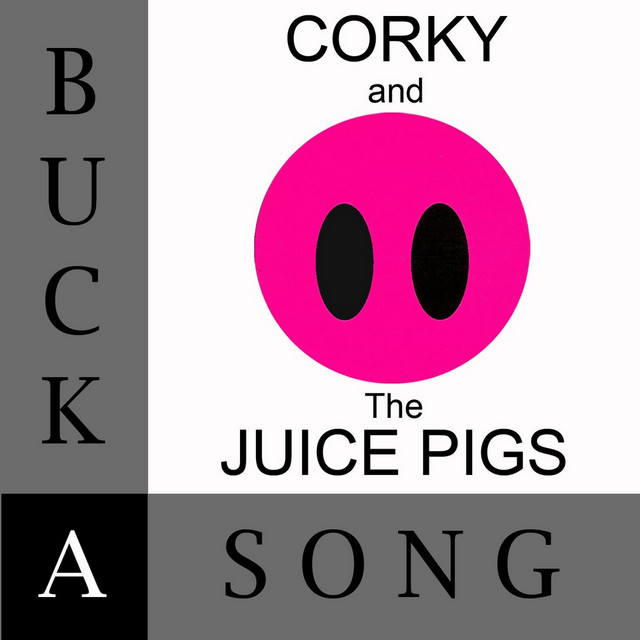 The original demo tape! Pickle! Pandas! Jesus! Now available on streaming services for the first time!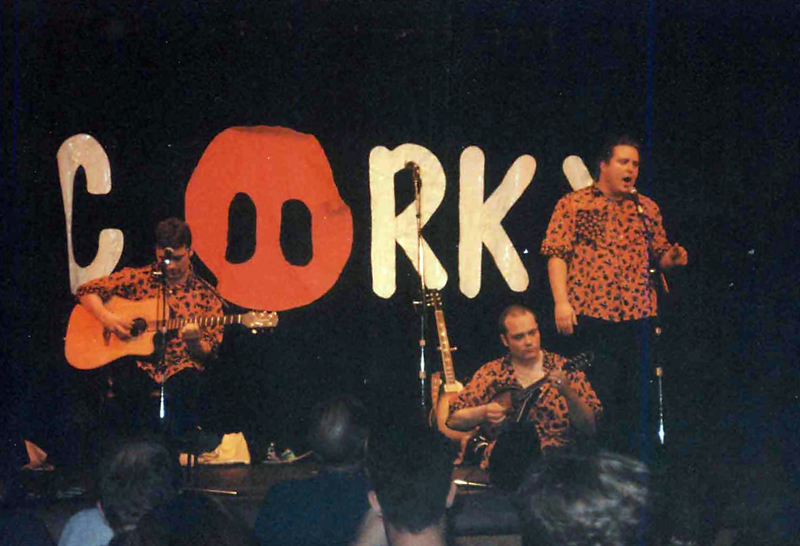 About Corky & The Juice Pigs
(This Biography is taken from the MediaPotLuck blog....)

Corky and the Juice Pigs were Phil Nichol, Greg Neale, and Seán Cullen, a trio of Canadian gentlemen blessed with powerful gifts: music and comedy. From 1987 to 1998 the band coupled cleverly composed musical style parodies, astounding witticisms, baffling weirdness, and insane improvisation into a beautiful goulash of sight and sound.

Eskimo
" still frequently makes the rounds on the Internet, though it's commonly accredited to other comedy acts and is often under the punch-line revealing title "I'm The Only Gay Eskimo".
"
Eskimo
" may be the band's lasting legacy, but it's far from their finest work.
Lines like "
I go out seal hunting with my best friend Tarka, but all want to do is get into his parka
" only begin to scratch the surface of the Juice Pigs' comedic prowess.
They can go toe-to-toe with the best of those in their field. The Juice Pigs' self-titled debut was released independently in 1993.
Their folksy, predominantly acoustic comedy predates the similar traits of modern musical comedians Stephen Lynch, whom they surpass in cleverness, and the Conchords, whom the Juice Pigs have much in common with, though the Conchords are much slicker customers.
"
Corky and the Juice Pigs
" is a twenty-six track long hodgepodge of short skits, short songs, and a few regular-sized songs.
Love Affair
":
"
You're my little curry puff, I'm your vindaloo man
I want to take you where samosas run wild, And lay you in a bed of nan
"
"
Truckers
" praises life on the open road: "
I've hauled a million tons of freight from Pheonix to Omaha and sometimes I fall asleep at the wheel and I kill carloads of tourists
" and "
Americans
" is a tragically real parody of American politics, ethics, and patriotic ballads:
"
We are Americans, we are Americans, We carry great big guns,
'Cause we are Americans, We're strong and we're free - We are Coke, we are Pepsi
"
There's even a mention of fighting a war in Iraq. Who would've thought this song would be even more pointed in 2009?
The Juice Pigs may disguise their songs with unrevealing titles, but they're quite blunt in their comedy.
Any normal-seeming situation will quickly break down into insanity such as in the opening verses to their early track, "
Pandas
", or the sophistication of their later works, like "
REMember
":
"
REMember
" is a prime example of three of the band's strongest suits – improvisation, style parody, and surrealism.
The song starts inexplicably with a tranquil rendition of The Cult's "
She Sells Sanctuary
" and then becomes a very unique R.E.M. parody.
Rather than riffing off of any one of R.E.M.'s songs or tackling aspects of their more famous works, "
REMember
" targets the idea of R.E.M.
Seán Cullen emulates Michael Stipes-esque vocals and spins a web of comical nonsense akin to the alt. rock band's subjective lyrics.
The Juice Pigs had practiced with this format earlier in their career with the song "
Suzanne
" - a Suzanne Vega parody not featuring a note of her hit "Tom's Diner", but lampooning its style of winding narrative.
Both tracks make use of Cullen's trademark improvisation which rambles to dadaist heights of humorous confoundment.
Pants
", retools the presence of the first album's skits and P.S.A.s into a clever unifying segway of changing radio stations that play in the pregap (negative numbers) between most tracks.
This fun new take on skits is just one of the many aspects of "
Pants
" that makes it far superior to the Juice Pigs' debut. In addition to tighter song-writing, the album has more complex production; allowing for a greater variance in sound and styles. "Pants"s title track, and first track on the album, flourishes their new complexity with a parody of early 90s dance hits complete with a wailing female vocalist and substituting record scratches with zipper sounds.
"
Pants
"' diverse sound serves it well, from the ska-infused "
Picnic Party
" (about Third World nations having fun in the sun), to the melodic ballad "
Dolphin Boy
" (the tragic tale of a boy who abandons the land to be with his favorite sea mammals), the hard rock "
Hot Squat Hombre
" (about the kind of love only the vertically challenged can give), or the country-western weeper "
Christmas Dreams
". "
Pants
" is also home to "
Janitor
", the Juice Pigs' most brilliant and endearing style parody.
In it, they riff off of fellow Canadian, Neil Young's distinctive vocals and folk-rock sound to spin the story of an eccentric grade school janitor who "
cleans the bathroom and tells dirty jokes …dresses like a woman and rolls his own smokes
."
The Juice Pigs' appearances on MADtv were as far as they ever got to stardom.
In 1998, while assembling new material for a third album, their record label, Denon, went belly-up and the band went separate ways. Two of their last songs "
Phone Sex Girl
" and "
Too Fat to Rock 'n' Roll
" (a Meatloaf parody) exist only as MADtv performances.
The Juice Pigs had a good run. Barenaked Ladies used to open for them back in the old days until the tables turned.
After eleven years, two albums, many festivals, and an attention-getting number of appearances on American television, surely the band could walk away somewhat satisfied.